Nevis Premier Brantley addresses service providers 
Get our headlines on WHATSAPP: 1) Save +1 (869) 665-9125 to your contact list. 2) Send a WhatsApp message to that number so we can add you 3) Send your news, photos/videos to times.caribbean@gmail.com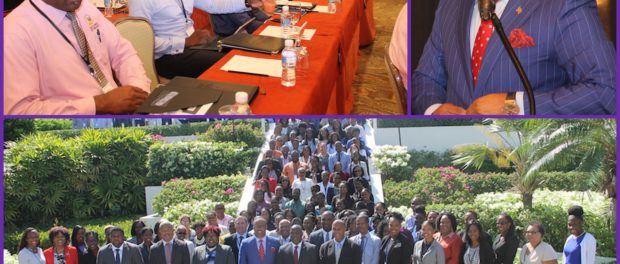 NIA CHARLESTOWN NEVIS (May 16, 2018) —The following is an address delivered by Hon. Mark Brantley, Premier of Nevis and Minister of Finance in the Nevis Island Administration (NIA) at the opening ceremony of the two-day13thannual Anti-Money Laundering (AML) and Countering the Financing of Tourism (CFT) Awareness Seminar and Training Workshop on May 14, 2018, at the Four Seasons Resort, hosted by the Financial Services Department.
The Financial Services Department is again demonstrating that it is at the cutting edge of knowledge and ideas in conceptualizing a very pertinent topic for this Anti-Money Laundering/Combating the Financing of Terrorism (AML/CFT) Awareness Seminar and Training Workshop: "Improving Transparency and Accountability – Fostering Confidence in Today's Regulatory Environment."
This topic is certainly not new but has taken on greater importance in a rapidly evolving global financial architecture which is responding to challenges of money laundering and terrorist financing, of tax evasion and avoidance, of the many financial and economic crises and of the many corporate scandals such as Enron and Worldcom which shook investors' confidence. 
The financial crises, in particular, were characterized by large reversals in private financial flows and shifted focus to the effect of contagion which exposed many of the vulnerabilities of the globalised financial system.
As a result of these events, the G20, a grouping of industrialized and emerging countries, was created in 1999 as a forum for dialogue and consensus building to ensure greater stability in the financial system. 
Consequently, we witnessed the creation of the Financial Stability Forum which focused on enhancing the regulatory infrastructure to strengthen the financial system; the Financial Action Task Force which focused on implementing anti-money laundering and CFT laws and regulation to combat money laundering and terrorist financing; and the Global Forum on tax transparency which many commentators believe is the true intent of the G20 countries, pursuing a protectionist agenda to stem their eroding tax bases as globalization picks up pace. 
These initiatives have resulted in jurisdictions worldwide being monitored closely by these various institutions using peer reviews and various assessments to ensure that countries comply or face being ostracized by the international financial community. 
One of the most effective punitive measures presently, is the policy of de-risking which has threaten the economies of many financial centres with the loss of correspondent banking. In St. Kitts and Nevis we have made tremendous progress in complying with the international standards. We have enacted many of the laws necessary to combat money laundering and terrorist financing, and are improved the compliance of our banks and regulated entities. 
We are presently in good standing with the Caribbean Financial Action Task Force (CFATF) and are no longer subjected to enhanced reporting by the Financial Action Task Force (FATF). We have also signed 24 Tax Information Exchange Agreements and 14 Double Taxation Treaties and were rated largely compliant by the Global Forum. We have also signed the Multilateral Convention on Mutual Administrative Assistance in Tax Matters which is a global convention wide treaty network for the sharing of information, and implementing the Common Reporting Standards and the Automatic Exchange of Information. 
It was therefore surprising, that our island was included on the black list as deficient in meeting the requirements for tax transparency. We are aggressively challenging the OECD on this matter and expect that St. Kitts and Nevis will be removed from the list at the next meeting of the EU Ministers of Finance. 
The private sector has also been impacted significantly by these changes with increasing pressure to improve transparency and accountability. As a result of the corporate scandals highlighted above, greater attention is being paid to corporate governance. 
The Sarbon-Oxley Act was passed by the US congress in 2002, requiring public companies to adhere to stricter auditing and reporting standards. This is designed to protect investors from the possibility of fraudulent accounting activities by mandating greater financial disclosure and holding management and auditors responsible for the accuracy of financial reports and the establishment of internal controls and reporting standards. 
This is now becoming the global standard and thus it is imperative that we begin to change our systems and procedures to reflect the new reality. 
We must also take note that there is also a bigger push for accountability coming from clients and professional advisors. The biggest doubt in a client's mind nowadays is whether they can trust an organisation. 
It is therefore extremely important that our service providers become proactive and begin to make the necessary changes to improve compliance with reporting standards. It is my view that those companies that fail to improve disclosure, will not survive in a competitive environment where trust and probity are becoming important prerequisites for business success. 
The real importance of this workshop, however, is how to address these challenges to ensure that we can enhance the image of Nevis as a reputable financial centre, so that it can continue to play an important role in our economic development. 
Despite the many challenges it is not this government's intention to throw in the towel. The financial sector is extremely important to the economy of Nevis and thus, we will not leave any stone unturned in our determination to develop a reputable financial sector which continues to generate revenues for government and provide opportunities for our people. 
Small island economies are at a disadvantage in the global arena where economies of scale and scope give the large countries a comparative advantage in the provision of most goods and services. In order to survive, we must exploit the assets and resources at our disposal to compete effectively in the present hostile environment. 
Financial services is one of the areas where small islands can and do compete globally and thus we must endeavour to be the best at what we do. To achieve this goal, I wish to posit at this time that, the only way forward is through effective communication and cooperation at all levels internationally, regionally and locally.
In an effort to maintain confidence in our jurisdiction as an international financial centre, our country and the regulators must continue to comply with international standards in preventing financial crimes and tax evasion. 
This requires that we continue to upgrade our laws, sign taxing information agreements, and comply with our commitments to provide sufficient information so that the international community can assess and understand our compliance effort. 
We must also ensure that the enforcement infrastructure is in place to punish those persons who break the law. This is an area where we have been cited many times as deficient and thus going forward, every effort will be made to improve our enforcement capability. 
However, there must be greater cooperation and transparency at the international level. The practice of the G20 countries dictating policies to the small financial centres and the less developed countries is unacceptable, leads to disillusionment and is counterproductive. 
We should have a seat at the table when these policies are designed to ensure fairness and equity in the financial system. For instance, there is the concern that the black list was drafted in secret without the opportunity for public scrutiny which conflicts with the very principle and ideals of the European Union (EU) and the Organisation for Economic Co-operation and Development (OECD) to promote transparency. 
This allows some of the larger tax havens the freedom to exercise political and economic leverage to get themselves off of the list. This has been borne out by Oxfam, an independent watchdog organisation representing a confederation of 20 charitable organisation, which used the same criteria developed by the OECD and included four major EU tax centres on the list namely Ireland, Luxembourg, the Netherlands and Malta. 
It is interesting to note that St. Kitts and Nevis was not included on Oxfam list. The view point is held by many experts, that promoting dialogue is more effective than the big stick approach in improving international cooperation. From our vantage point as a small island, we ask for fairness by demanding that the same rules be applied to all countries, big and small.
At the regional level, regulators should meet regularly and provide a forum for sharing of appropriate information and knowledge. We must also conduct peer reviews which are not imposed externally but undertaken in a spirit of cooperation so that we could move to a single financial space in the region with similar laws and regulations which meet international standards. This will ensure ownership of the process and greater buy in by the various countries. 
Too often in the Caribbean, we tend to respond in a crisis situation or when conditions are imposed from international organisations. Let us be proactive and raise the standard of compliance in the region by driving change from within.
Accountability is provided through mandatory reporting. It is important to provide the necessary reports to the Regulator in a timely manner. This is a very important area for building confidence and partnership between the Regulator and the service providers. On one hand, the Regulator should not take a pedantic, legalistic approach in requesting information from regulated entities. This creates unnecessary antagonism and is unproductive. On the other hand, the Regulated Entities must be proactive and provide the necessary information voluntarily without the regulator having to revert to legal channels or impose punitive measures. 
A cooperative approach in this regard, safeguards the interest of both the jurisdiction and service providers and protects our island's image as a responsible and reputable financial services' centre. 
Going forward, the hallmark of this administration will be open dialogue and cooperation with the service providers. I have already challenged the marketing department and the service providers to grow the sector by at least 50 percent over the next five years. 
This is achievable but requires hard work and a unified effort knowing that we will rise together or fall together. I will insist on a more favourable governance structure which will involve greater transparency in the design of rules and regulations, more opportunities for the exchange of views, and greater participation from the service providers. 
I want to use this opportunity to make a fervent appeal to the service providers to re-establish [the] Nevis International Service Providers Association (NISPA), to create a spring board for public and private sector partnership. 
This government is willing to work with the service providers but we cannot make much progress with a cacophony of voices.. We need an organisation that speaks with one voice, is well informed and has the expertise and independence to objectively evaluate financial regulations and regulatory actions from the private sector perspective. An organisation such as NISPA will be strategically placed to perform this very important role. 
NISPA can also help to enhance the image and reputation of the jurisdiction by becoming a self-regulatory body for its members. It can provide training, share ideas and develop best practices for all members in areas such as compliance, auditing, accounting and reporting. 
Members can even share resources to help reduce their cost of operations. This will not in any way diminish the role of the government's regulatory body but will engender goodwill and respect and promote better understanding and cooperation.
I also want to touch on the extremely important area, marketing of the jurisdiction. We cannot grow the sector without a high quality marketing plan. The service providers understand the needs of the customers much better than government and must play a central role in marketing. 
We want to partner with you in this endeavour and have recently established a marketing advisory committee with members from the government and the service provider community to develop marketing strategies and decide on the geographical areas where our efforts should be focused. 
We do not want the task of selecting members and would prefer that an organisation like NISPA provides members with the technical expertise in marketing to represent the interest of the organisation. 
I issue a clarion call, once again, for the service providers to establish an institution that will work hand in hand with the government to promote the financial sector in the international market place. 
Last but not least, I must mention that we are also looking for new opportunities to enhance growth and development. With the many challenges facing the international financial sector, we are working on the development of a crypto currency exchange. We have already contracted a consultant to assist us with the development of a friendly legal framework for virtual currency and block chain, similar to this bitcoin revolution official software. 
Every precaution is being taken to develop a well-regulated industry which meets international standards and is ideal for the development of the fintech business. 
In the future, the government intends to fund high level training for Nevisians in block chain technology and compliance, to ensure that our people can reap maximum benefits from this new industry. We anticipate that it will create about 20 jobs initially and generate significant revenues for government in the future.
In conclusion, I wish to emphasize that both the government and the financial practitioners have an important role in promoting transparency and accountability, so that we could comply with international standards, build confidence in our jurisdiction, and give investors the assurance that they are safe from fraudulent activities. 
However, better governance should come from within and not from external pressures. In the future, we must continue to build up our regulatory and marketing capacity working closely with a service provider association in the spirit of mutual respect and cooperation. This is the only way that the financial services sector in Nevis will overcome the myriad challenges and continue to grow from strength to strength. 
I now declare the workshop open and wish you a successful and rewarding two days of interaction and learning. 
END