NEVIS MONDO DESIGNED TRACK AND FIFA CERTIFIED FOOTBALL FIELD TO BE AMONG BEST IN CARIBBEAN SAYS IAAF OFFICIAL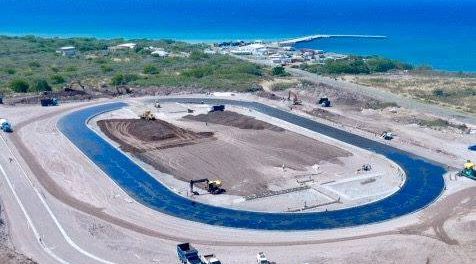 IAAF President of NACAC Region Victor Lopez and his wife toured the progress on the Nevis Athletics Stadium on Saturday March 11th
. The Senior IAAF Official had high praise for the design and the work currently being done declaring during an Interview with local media that the Track will be one of the best in the Caribbean.
The track is being constructed in Mondo's New High tech Design and will be the first of it's kind in the Caribbean and only the third in the world.
Mr Lopez was accompanied on the tour by Nevis Island Assembly Junior Minister Hazel Brandy-Williams , Director of Sports Jamir Claxton and Project Manager Timothy Caines.
The Project is the single largest investment in Youth and Sports in Nevis History and Deputy Premier has exalted the tremendous potential and benefits the project will bring to Nevis .
"We are very, very proud of this particular project. It is the single largest investment in our youth and in sports that you've ever seen in the history of our little island and so for us this is a very important project," Deputy Premier Brantley stated.
The facility which will be outfitted with a Mondo track, will also have a Fédération Internationale de Football Association (FIFA)-certified football field in the middle.
Mondo is a well-known European based company, which is the official surface and equipment provider for the IAAF.