MINISTRY OF EDUCATION ROLLING OUT A NEW NATIONAL ASSESSMENT IN AN EFFORT TO FURTHER STRENGTHEN THE EDUCATION SECTOR IN THE FEDERATION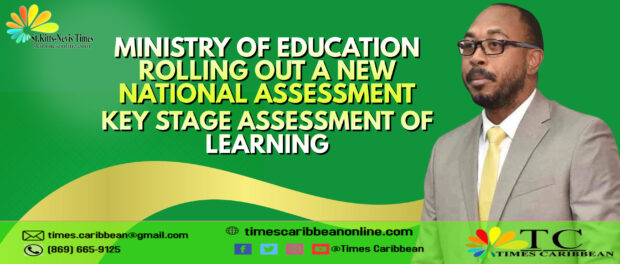 Basseterre, St. Kitts, March 30, 2022 (SKNIS): On March 29, 2022, Minister of Education, the Hon. Jonel Powell, made an address to the nation to provide an update on the National Assessments for the current 2021 – 2022 academic year, and the phased introduction of a new national assessment named "Key Stage Assessment of Learning" referred to simply as KAL.
"Over the past two years, substantial work has been done in the areas of curriculum development and national assessment. During this period we worked with great care and dedication to (1) rollout the new enhanced curriculum (2) redefine the purpose of national assessment and (3) redesign the national assessment process. I am pleased to announce today that the Ministry of Education has made the decision to reintroduce national assessments at the primary level this year. National assessments will be administered in Grades 4 and 6 for Language Arts and Mathematics during Term Three. The Language Arts assessment will be written on the 7th, 8th, and 9th of June with the Mathematics assessment being written on the 14th of June," said Minister Powell.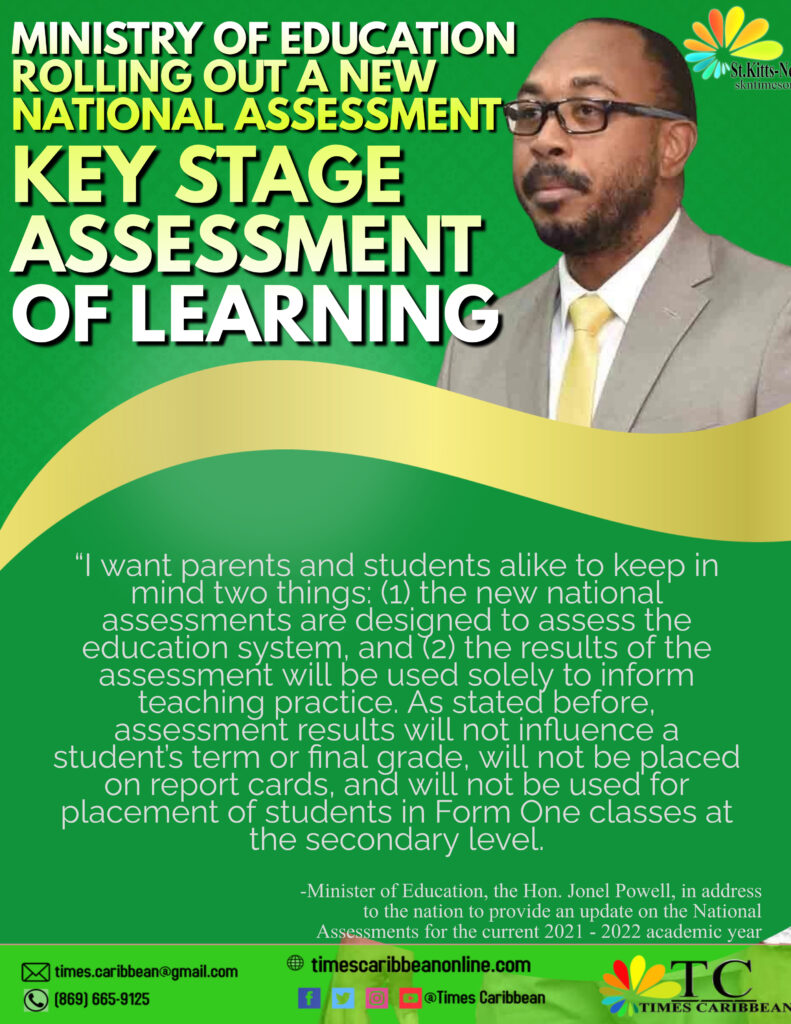 The administration of national assessments, specifically the "Test of Standards" and "Common Exams" were first suspended two years ago during the 2019 – 2020 academic year. That decision was taken in light of the challenges faced by parents, students, and teachers alike as the Federation grappled with school closure and the transition to virtual education in response to the COVID-19 pandemic.
The Ministry of Education has maintained that national assessments should not be used for the purpose of student placement in secondary schools. The new national assessment entitled "Key Stage Assessment of Learning" or KAL will focus more on the core deliveries of the curriculum.
"I want parents and students alike to keep in mind two things: (1) the new national assessments are designed to assess the education system, and (2) the results of the assessment will be used solely to inform teaching practice. As stated before, assessment results will not influence a student's term or final grade, will not be placed on report cards, and will not be used for placement of students in Form One classes at the secondary level. Parents and guardians will receive a separate report which will explain student performance against learning outcomes for the subject area as described in the enhanced curriculum," said Minister Powell.
The national assessments planned for 2022 are expected to provide feedback to the Ministry of Education on the effectiveness of the enhanced curriculum in Language Arts and Mathematics, inform decision making about education programmes and services, guide continuous system and school improvement, provide teachers with knowledge about student progress that will inform their approaches to instruction, and serve as an accountability measure to the citizens and residents of St. Kitts and Nevis.