Why 'mini Kevin Durant' St.Kitts Top NBA Pick Jonathan Isaac has the Draft's highest ceiling
Get our headlines on WHATSAPP: 1) Save +1 (869) 665-9125 to your contact list. 2) Send a WhatsApp message to that number so we can add you 3) Send your news, photos/videos to times.caribbean@gmail.com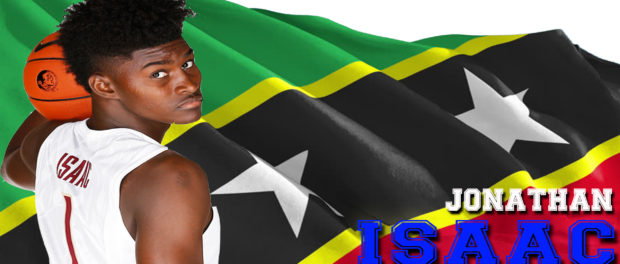 St.Kitts and Florida State's Jonathan Isaac has all the tools to be an NBA superstar, but can he fulfill the potential?
The concept of an NBA prospect having a "high ceiling" is something that's often discussed, but rarely defined. Is this the most exciting thing we can say about a player on draft night, meaning that, someday, he could become that franchise cornerstone every team needs?
Or are we saying that a player has the physical attributes and the athletic prowess to round into a phenomenal basketball player, if he puts in the hard work and gets some lucky breaks? Or is that term a backhanded compliment of sorts, where a talent evaluator is saying that, yes, the player has enormous natural abilities, but that he never reached that high potential in college?
Is "high ceiling" the best thing you can say about a prospect, or is it the worst? A blessing or a curse? Leading into the 2014-15 college season, Karl-Anthony Towns was spoken about as a high-ceiling player. Turns out he's reaching that ceiling in the NBA already. But remember: Cliff Alexander was considered a better college recruit than Towns, and he was spoken about in the same high-ceiling sort of way. Alexander had a miserable college season at Kansas, went undrafted, and was last seen playing for the Nets — the Long Island Nets, that is, of the D-League. He never even sniffed his high ceiling. With these new prospects, he might be added to somewhere like https://www.fanduel.com/fantasy-basketball to be drafted in someone's fantasy team.
And so it is with both excitement and a bit of trepidation that I'm slapping the "highest ceiling in the 2017 NBA Draft" label on Jonathan Isaac, the tall, athletic, versatile one-and-done forward from Florida State. He fits the "high ceiling" bill: Isaac has the athletic abilities to wow people in the NBA. He has the body that ought to fill out, a rangy 6-11 frame that his college coach told me could still be growing. And he has a skill set that is rare for a big man, as a late growth spurt turned him from a slender 6-foot-6 high school wing overlooked in the top tier of college recruiting into a near 7-footer with the playmaking and shooting abilities of a guard.
Needless to say, Isaac's ceiling has NBA scouts drooling. One scout told me Isaac is the one player in this draft he sees as being in the rarefied air of "freak NBA athletes," a term the scout reserves for players like LeBron Jamesand Paul George and just a handful of others.
So is this label a blessing? Or is it a curse, the idea that in the future this player could outperform his past?
The answer depends, I believe, on the individual. An arrogant young man who hears this talk about himself can get lazy. He can see himself as The Anointed One and not put in the work. This is the type of player for whom the "high ceiling" label will become a curse.
Luckily, this is not the case with Jonathan Isaac. And because of not only his basketball attributes but also his grounded and humble personality, I earnestly believe that five years from now we could look back at the 2017 NBA Draft and say, "How the hell did a player like Jonathan Isaac last all the way until the seventh pick?!?"
"There's no question about it," Isaac's college coach, Leonard Hamilton, told me the other day, agreeing with me on both Isaac having the highest ceiling in this draft and the constitution to live up to the label. "Jonathan is an extremely humble person, but he's also a very hard worker, extremely focused. Of all the players I've coached, he comes in as a youngster with an extremely high basketball IQ, one of the highest basketball IQs I've seen. He sees the game through a mature set of eyes, almost coach-like. He values all the little things that are important about the game."
That's exactly the type of mentality that turns a high-ceiling player into an NBA All-Star. He's the kind of player that if he continues working as hard as he is, will have plenty of fans flocking to somewhere like Buyside Sports to collect all of his memorabilia, putting him up there with the likes of Zion Williamson and Damian Lillard. In fact, a nationally respected evaluator of high school basketball talent — someone who has watched Isaac develop for years — told me what jumps out to him most about Isaac's game is how unselfish he is (he also referred to Isaac as a "mini Kevin Durant," if that gives you any sense of Isaac's ceiling). He's not the type of player who is so concerned about filling up the box score. He knows that he'll get his. Instead, he's out there to make his team better, not just make himself look good.
In an NBA that spreads the floor like it does, Isaac is the type of player who fits the modern league like a glove. He's a near 7-footer who can put the ball on the floor and knock down 3s, which he did at a 35 percent clip in college at an average of nearly three attempts per game. He rebounds in traffic, he makes free throws, he doesn't pass up open looks, he makes the pass that leads to the pass that gets the assist. He was the most effective shot-blocker and rebounder for one of the tallest teams in college basketball. But what Hamilton believes will make him most valuable in the NBA isn't necessarily just his effectiveness close to the rim. It's that he's as comfortable under the rim as he is out on the perimeter — on offense, and on defense. There's not a big man in this draft who'll be as effective switching on pick-and-rolls as Isaac is.
"He has the versatility to be whatever a coach wants him to be," Hamilton told me. "He's so rare in terms of having such a talented guy who just really, really gets it. He's a confident person. He'll respect authority and respect the culture of the team, but he'll speak up when there's something that needs to be talked about. He's not a 'yes' man. He respects right from wrong. He's the kind of young man parents want their kids to grow up to be."
Look, I am well aware that NBA teams won't be making their selections on draft night based on whether a player seems like a nice young man or a guy with a nose for trouble. The fact that Hamilton raves about how enthusiastic of a cheerleader Isaac was for his teammates when he was on the bench won't register with NBA teams. But you better believe that in a draft that's chock-full of players with all the measurable basketball attributes you'd ever want, it'll be those personal intangibles that can turn a player from "high ceiling" into "franchise cornerstone."
I can't say with 100 percent certainty that Isaac will make that leap. That's why the NBA draft is always filled with so much intrigue; these young men are unfinished canvasses onto which we can project our own hopes and desires. One of the highest ceilings in recent memory was Greg Oden and, through a rash of misfortunes, he became a historic bust. And nobody was talking about the high ceiling of a player like Draymond Green on draft night. Green became one of the biggest steals in NBA draft history. There are so many factors at play on whether a player falls short of or far exceeds his potential.
But I do know this: When you take the whole package with Jonathan Isaac — the phenomenal physical profile, the off-the-charts basketball IQ, the humility, the focus — he strikes me as the rarest of high-ceiling players. He's the high-ceiling prospect who could also be the safest of bets.