LAUNCH OF UNITY HOUSING SOLUTIONS PROGRAMME, A MAJOR DRIVER OF ECONOMIC ACTIVITY IN ST. KITTS AND NEVIS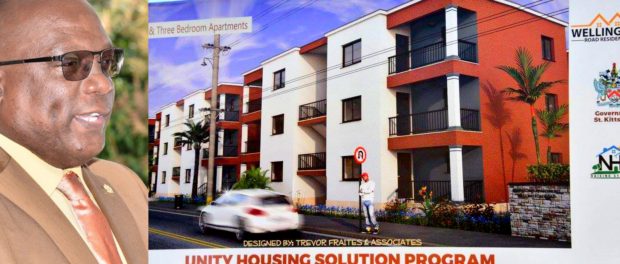 Basseterre, St. Kitts, February 18, 2017 (SKNIS): Coming on the heels of the successful launch of the revolutionary change and upgrade of the People's Employment Programme (PEP) into the Skills Training Empowerment Programme (STEP) on February 16, Prime Minister and Minister of Finance, Dr. the Honourable Timothy Harris, has declared that the launch of the Unity Housing Solutions Programme on February 17 will be a major driver of economic activity in St. Kitts and Nevis.
Speaking at the historic housing ground-breaking ceremony in front of the National Housing Corporation (NHC) on Wellington Road, Basseterre, Prime Minister Harris said that the soon to begin construction project will create jobs for thousands of people in the country. He said that jobs will be created for masons, carpenters, painters, truckers, tilers, plumbers, electricians and steel-benders, along with increased business opportunities for building material suppliers.
"We promised that we will create jobs. This programme will lead to a delivery of these jobs," Dr. Harris said, while pinpointing that employment will be provided for over 1000 young persons in the country and mentioning that the construction of the soon-to-be-opened Christophe Harbour Park Hyatt St. Kitts has a present employment record of over 900 employees, while anticipating hundreds more when it opens its doors in the Spring/Summer of this year.
"There is a new atmosphere of hope, a new atmosphere of freedom in the country," he said. "We've come to light the candle of hope to all those persons who for so long have been waiting for an opportunity to begin their new home. Hope has come with Team Unity and today we make a fresh start, a new beginning in housing development in St. Kitts and Nevis."
"We will facilitate the largest ever property ownership outcomes over the next 10 years. We want a national development programme where our people have a real stake in its promotion, in its defence and in its delivery," he said.
Underscoring the philosophical underpinnings of the Team Unity Administration's Housing Policy, he said: "The Team Unity Administration feels that shelter is a basic human need and one which we all share and one which is essential to healthy and happy lives."
"Our homes equip us for the future. They are the key to vibrant, diverse communities where people can live, work and prosper. Our homes are where we grow up, raise our families, where we grow old," he added. "The housing development launch is a step in the right direction in meeting the basic needs in decency and dignity of our people."
"As a former minister of housing, as prime minister, as a citizen of this country, I can appreciate how home ownership can transform for the better the lives of our people. A property owning society is the cornerstone of any progressive and stable country," Prime Minister Harris said, while highlighting that "part of the job we have to do today is to deliver affordable houses, which we hope you will convert into homes; we provide the house, you will convert it into your homes by the care, the attention, that you will provide for it."
Dr. Harris added: "I would wish that when we next visit you after delivery, we see beautiful gardens, we see areas well-manicured, we see your backyard garden, we see that you have taken real pride and ownership and love for the home provided to you because we want you to rise to the occasion to show yourself worthy beneficiaries of the government's programme."
Prime Minister Harris noted that the Unity Housing Solutions Programme was made possible through a 50 million dollar loan from the Social Security Board that partnered with the government through a "re-invigorated and re-energized National Housing Corporation (NHC)."
He implored construction workers and contractors to deliver quality work in building the homes.
"NHC will be one of the largest purchasers of building materials—this now is volume purchase and those who are involved in procurement must not only look at the price locally but look at the price overseas because we want to deliver as many housing solutions to the people and to bring value for money," he said.
Dr. Harris said that to aid in the delivery of the Unity Housing Solutions a procurement department has been established to ensure increased efficiency and transparency; a new central stores department has been set up to improve bulk ordering and to reduce the associated costs; and a client-relations department has been created for improved information dissemination and client follow-up care with a focus on quality human relations, while emphasizing "the improved financial condition of the NHC since the Team Unity Administration has taken over.
"If the corporation is in good health the programme can continue," he said.
The prime minister said that there will be three tiers of building 300 homes. There are the Strawberry and Guava Berry Designs with a living area of 862 square feet, which will have living and dining room, kitchen, laundry (open concept), two bedrooms, bath, entry and bedroom porch; and the Town House Design with a living area of 1190 square feet per section. This will include living and dining room, kitchen, laundry (open concept), two bedrooms, bath, and entry and bedroom porch.
Additionally, Dr. Harris said that the Team Unity Government will continue to establish public and private partnerships to broaden and expand the scope of home ownership of our people.
"We aim over the next 10 years to provide the greatest number of housing solutions ever provided by any administration in living memory…We do not believe that one size fits all. Therefore, we will offer an array of housing solutions that meet the needs for the decency and dignity of our people. In this respect, we will provide support to improve the quality of life of the most needy. We will offer support for the delivery of pipe-borne water to all homes in St. Kitts and Nevis and we will work to eradicate the unhealthy pit latrines. We will prevent the development of slums in our urban and rural areas and the disorderly and illegal construction of homes…we will provide assistance for repairs for our low income households," the prime minister said.
In making reference to Black History Month, which is celebrated in February, he said "our forebears suffered much deprivation. They were left out in the cold periphery. Their legacy was not one of a property owning society. Through action by several administrations from slum clearance to home building, much have been done to reconcile our rights as citizens and our desire for property ownership. Today Team Unity advances on this agenda," Dr. Harris said.
"You have become the beneficiary of a house, you are required to pay for it and I could well understand that there will be occasions where you will not be able to meet the monthly mortgage but pay something, however small. Show a consistent effort of seriousness," he said, while noting that the NHC will offer mortgage support.
Prime Minister Harris said that under the previous Dr. Douglas-led Government 69 housing sites were not fitted with infrastructure to the tune of 70 million dollars. He gave the assurance that the Team Unity Administration will not follow suit but will have infrastructure implementation including electricity, water and other amenities.