JetBlue Soars To St. Kitts With Exciting New Route Launch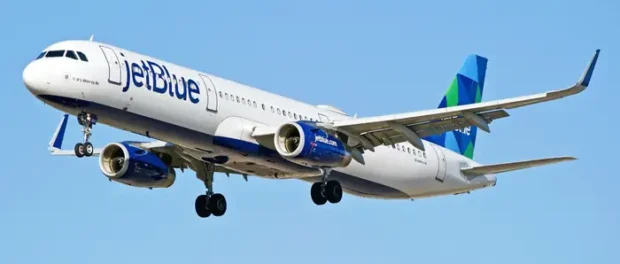 The Highly-Anticipated New Route Enhances Travel Accessibility, Offering Year-Round Options for New York-St. Kitts Travellers
BASSETERRE, St. Kitts, June 6, 2023/PRNewswire/ — The St. Kitts Tourism Authorityis proud to announce its strategic collaboration with JetBlue, marking the commencement of direct, year-round service from New York (JFK) to St. Kitts, three times weekly beginning November 2nd. This partnership is an integral step towards expanding international travel opportunities and enhancing accessibility to the island.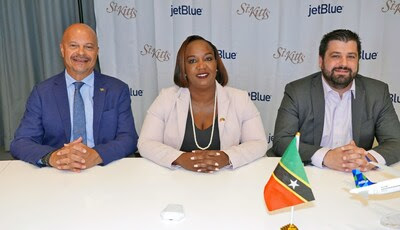 Available year-round, these direct flights will offer seamless travel experiences to and from New York and St. Kitts. The service will operate weekly on Sundays, Tuesdays, and Thursdays providing travellers with greater flexibility.
"The introduction of JetBlue's service to St. Kitts marks a significant milestone for our tourism-driven economy, as it enhances our accessibility and strengthens our global connectivity monumentally," said Honourable Marsha T. Henderson, Minister of Tourism, International Transport, Civil Aviation, Urban Development, Employment, and Labour. "The additional airlift will undoubtedly stimulate economic growth and pave the way for further destination development, ultimately benefiting the people and businesses of St. Kitts."
"We look forward to introducing our low fares and great service to St Kitts customers and offering our Northeast customers a unique island getaway where they can find pristine beaches, adventure, world-class gastronomy and warm hospitality," said David Jehn, vice president, network planning and partnerships, JetBlue. "This new nonstop route aims to continue to grow our presence in the Caribbean and bring more choices for our customers."
JetBlue will operate the new route using its Airbus A320 aircraft, offering the airline's award-winning service featuring the most legroom in coach, live television and on-demand entertainment on every seatback, free and fast Fly-Fi broadband internet, complimentary snacks and soft drinks and great customer service.
"JetBlue's service to St. Kitts heralds an exciting future for tourism, opening a world of possibilities for travellers seeking to experience our island's authenticity and rich culture," said Ellison "Tommy" Thompson, CEO of St. Kitts Tourism Authority. "As we work to further build brand awareness and generate demand, it is anticipated that this increased accessibility will bolster our tourism industry and enable new opportunities to further develop the tourism product."
Seats are available for booking now, with service between New York John F. Kennedy International Airport (JFK) to St. Kitts Robert L. Bradshaw International Airport (SKB) commencing this fall ahead of the 2023 holiday season.
St. Kitts is experiencing continuous growth in connectivity internationally. With the introduction of the new JetBlue route, St. Kitts will now have year-round service from New York (JFK), London(Gatwick), and Miami.
For more information on JetBlue, visit: https://www.jetblue.com/. For those traveling in groups of 10 or more, please visit https://www.jetblue.com/traveling-together/group-travel and complete the corresponding forms for reduced rates.
Visitors are reminded to regularly check the St. Kitts Tourism Authority website (www.visitstkitts.com) for updates and information.
About St. Kitts
St. Kitts is the larger of two islands that make up the Federation of St. Kitts and Nevis. Eighteen miles of green mountain ranges stretch from Mount Liamuiga in the north to the southern peninsula—each end, an entirely different and equally fulfilling experience. The island's serendipitous location between the Atlantic Ocean and the Caribbean Sea gives its coast distinctively varied hues. Our beaches range from golden tones to salt-and-pepper and alluring black volcanic sand. Venture Deeper into the magic of St. Kitts and discover what the destination holds while simultaneously venturing introspectively into a journey of self-discovery. Peel back the many layers of our beautiful island to discover the culture, history, adventure, and culinary delights around every corner.
 *If you are travelling to St. Kitts, it is required that you complete the online Immigration and Customs ED Form before arrival. Upon completion, you will receive a receipt with a QR code that you must present upon arrival in St. Kitts. Your QR code can be printed out or scanned directly from your phone. For more information about St. Kitts, visit visitstkitts.com. 
About JetBlue
JetBlue is New York's Hometown Airline®, and a leading carrier in Boston, Fort Lauderdale-Hollywood, Los Angeles, Orlando and San Juan. JetBlue carries customers to more than 100 destinations throughout the United States, Latin America, Caribbean, Canada and United Kingdom. For more information and the best fares, visit jetblue.com.
CONTACT: Taylor McDonald, stkitts@finnpartners.com