GOVERNMENT OF ST. KITTS AND NEVIS COMMITTED TO SAFEGUARDING FAMILIES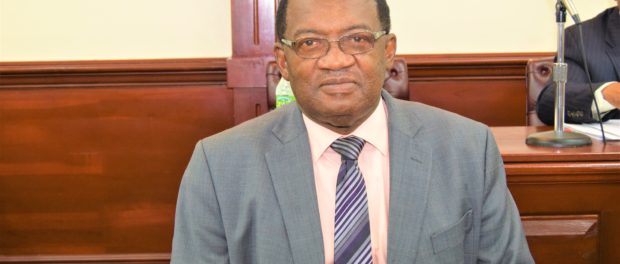 Basseterre, St. Kitts, May 16, 2022 (SKNIS): As the Federation of St. Kitts and Nevis observed International Day of Families on Sunday, May 15, the Government has reaffirmed its commitment to safeguarding families across the twin-island Federation.
"As servants of the people of Saint Kitts and Nevis, we are reminded as a government of our covenant to safeguard the well-being and future of families across the Federation. Our government's strategic and holistic response, therefore, has given emphasized consideration to policies and programmes spanning several sectors that target the vast array of challenges affecting the family structure," said Deputy Prime Minister and Minister of Social Development and Gender Affairs, the Honourable Eugene Hamilton, during his address to the nation in observance of the day on May 15.
Deputy Prime Minister Hamilton reflected briefly on the words of former President of the United States President Lyndon Johnson who posited that "the family is the cornerstone of our society. More than any other force it shapes the attitude, the hopes, the ambitions, and the values of the child. And when the family collapses it is the children that are usually damaged. When it happens on a massive scale the community itself is crippled …"
"These few words have surely resonated with the Ministry of Social Development and Gender Affairs which has wholeheartedly committed to advancing the welfare of families. To complement the delivery of people-centered services by the Department of Community Development and Social Services that promotes socio-economic advancement, is the employment of Family Counselors at the newly rebranded National Counseling Center," said Minister Hamilton. "It is envisioned that this would provide the necessary psychological support through family-centered approaches in an effort to effect cohesive and functional families in our society."
Minister Hamilton called on all stakeholders to work closely with the Ministry of Social Development and Gender Affairs to help strengthen families.
"I take this golden opportunity to solicit the support of all sectors of society in working collaboratively with the Ministry in its intensified quest to build strong and functional families for a safer and a more socially progressive tomorrow, thereby engendering a more caring society that ensures the enhanced welfare of all," he said. "It is imperative that I emphasize, however, that these efforts must be channeled within the framework of increasing the protection of our most vulnerable assets such as our children, women, people with disabilities and older persons. We are all admonished as a nation to value the importance of family as priceless and demonstrate love and appreciation as much as we can, despite the challenges that some of us may encounter in placing family matters behind us."

International Day of Families 2022 is celebrated under the theme "Families and Urbanization." The United Nations General Assembly, in its resolution 47/237 of 20 September 1993, proclaimed that 15 May of every year shall be observed as the International Day of Families.