FULLY VACCINATED PERSONS RECOVERING SWIFTLY FROM COVID-19; FOURTH WAVE OF INFECTIONS UNDER CONTROL – DR. CAMERON WILKINSON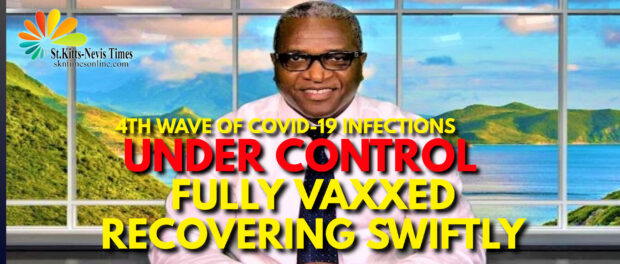 Basseterre, St. Kitts, January 13, 2022 (SKNIS): As the fourth wave of COVID-19 infections continues across the Federation of St. Kitts and Nevis, health officials are positively optimistic that the current wave will subside soon.

Speaking during the January 12, 2022 NEOC COVID-19 press briefing, Medical Chief of Staff at the Joseph N. France General Hospital (JNF) Dr. Cameron Wilkinson indicated that four hundred and seventy-eight (478) persons infected by COVID-19 during the current wave have since recovered.

"When we look at the number of confirmed cases to date, we have a total of four thousand four hundred and eighty-four (4484) with three thousand eight hundred and thirty-eight (3838) in St. Kitts and six hundred and forty-six (646) in Nevis.  Of these, three thousand two hundred and fifty-two (3252) have already recovered in total… I am happy so far that during this fourth wave we have not added any new deaths, however, this again might be inevitable if we do not give ourselves the necessary protection. I do hope that the death rate remains at zero (0) during this current wave. The experience we have had here shows that fully vaccinated persons are asymptomatic or very mild symptoms from the disease and most of them are testing negative in four to five days," said Dr. Wilkinson.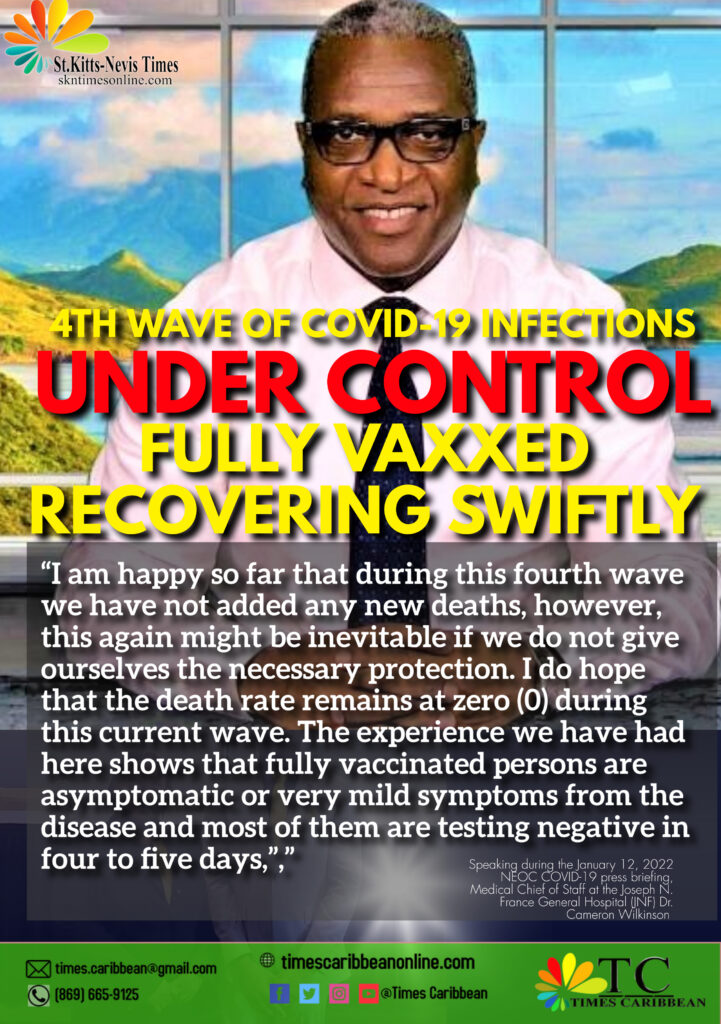 As it relates to the variants in circulation, previous genomic sequencing and testing have identified the presence of both the Lambda and Omicron variants in the Federation of St. Kitts and Nevis. Dr. Wilkinson also stated that during the current wave data show that vaccinated persons have recovered faster than those unvaccinated, pointing to the clear effectiveness of the COVID-19 vaccines.

"If we are to look closer at the cases in this last wave that started on December 24, 2021, we have had a total of one thousand six hundred and sixty-two new cases (1662). The females outnumber the males with about forty-eight (48) percent of cases are in males and fifty-two (52) percent in females. During this period, we have had a period of about thirty (30) hospitalizations, six (6) in Nevis and twenty-four (24) in St. Kitts. It is important for me to note here though that the hospitalizations currently we have about twenty (20) patients in the JNF COVID-19 positive, but that does not mean that every patient is there because of COVID-19 disease. Because the disease is so widespread it is possible that one can have asymptomatic COVID-19 but you go to the hospital because you had a heart problem or a stroke etc. and are tested and the results return positive," said Dr. Wilkinson.

It is important to note that the number of hospitalizations does not reflect persons there because of COVID-19 disease. Currently, the COVID-19 ward at the JNF hospital only has approximately nine (9) patients.