ENUMERATION AND HOUSE TO HOUSE VOTER REGISTRATION TO ENSURE VOTERS REGISTER WHERE THEY LIVE PART OF TEAM UNITY GOOD GOVERNANCE AGENDA
A TRANSPARENT ELECTORAL SYSTEM FORMS PART OF GOVERNMENT'S GOOD GOVERNANCE AGENDA, SAYS ATTORNEY GENERAL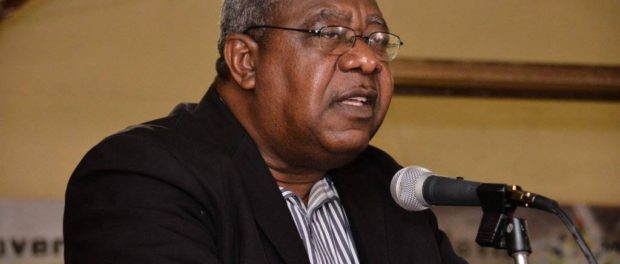 Basseterre, St. Kitts, March 01, 2017 (SKNIS): The Honourable Vincent Byron Jr, Attorney General, said that having a transparent electoral system in St. Kitts and Nevis forms part of the good governance agenda because without a free and fair system there will not be a proper democracy.
Speaking at the "Good Governance and Accountability for Prosperity" town hall meeting in Saddlers on Tuesday, February 28, the attorney general said that for too long the Federation has experienced a problem in its electoral system and government will work assiduously to correct it.
"A fundamental part of our good governance agenda is that we will fix that and we will fix it by introducing a system where we will have enumeration, enumeration of all households," he said. "We will go from house to house and take those who are 18 and over, those who are citizens of this country and those who are qualified to be registered to vote, we will register them where they live. Everyone will be registered but they will be registered to vote where they live."
He stated that it is not a practice to deny people whose names are on the voter's list and who are qualified to vote their right to vote. He said, however, that too many persons throughout St. Kitts and Nevis are not properly registered.
"We have not been always qualified to vote where we do actually vote and so one of the most vexing questions when it comes to our electoral system has to do with voter registration where we register to vote and for so many years we have people who may live in one part of the island…and vote in another and this is not fair and it makes our system weak," he said.
He further stated that for too long also, persons have been moving from St. Kitts to Nevis to register to vote where they don't live in an effort to interfere with and to fix the system on the sister island. He noted that such an issue would be rectified once the proper measures are put in place.
"This government over the next few months will be introducing a framework by which it would be done in a fair, free and supervised manner, that it will not give anyone an advantage over another, so that our system must be seen," said Attorney General Byron. "We must have confidence in our electoral system that no one, no one party, and no individual is manipulating it to get an unfair advantage over it. There must be a levelled playing field and it is very important to our country, our independence, and to our good governance, that this be done."