DOUGLAS WIDELY CONDEMNED OVER RECENT CRITICISM OF  NEWLY ANNOUNCED 6 MONTH CBI HURRICANE RELIEF FUND
Get our headlines on WHATSAPP: 1) Save +1 (869) 665-9125 to your contact list. 2) Send a WhatsApp message to that number so we can add you 3) Send your news, photos/videos to times.caribbean@gmail.com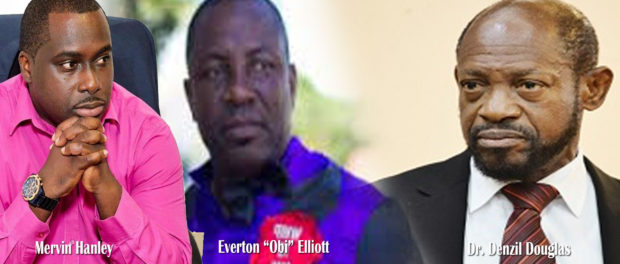 (September 25th, 2017) Ex Prime Minister of St.Kitts-Nevis Dr. Hon Denzil Douglas has come in for widespread condemnation over his recent criticism of the new 6 month CBI Hurricane Relief Fund announced by the Citizenship Investment Unit of St.Kitts.
The fund received high praise from citizens and the private sector as it seeks to address the immediate needs of a post Maria St.Kitts-Nevis which suffered over $140 million in damages over the last two hurricanes in Maria and Irma. The announcement was lauded as yet another pioneering and inn innovative innitiative by St.Kitts-Nevis who originated and pioneered the programme in 1984. Since then countries such as St.Lucia and Dominica have followed and copied the long established and successful model of the St.Kitts-Nevis programme . Over the last years both country's introduced programmes with similar offerings but at almost half the price.
Ex PM Douglas issued a statement on Saturday in which he sort to scathingly criticise the new initiative. This drew instant and widespread condemnation from St.Kitts-Nevis nationals who saw his criticism as hypocritical and unpatriotic. Well known Nevisian Blogger and harsh critic of the ruling Team UNITY government on St.Kitts-Nevis , Everton "Obi" Elliott-Powell supported the new CBI initiative and stated in a post in response to Douglas' criticism and an article which referenced it
Elliot stated " I disagree with this article and Douggie and others. Life is a competition and you have to look out for your people first before you can help others. I don't remember SKN crying foul when others open their own CBI program with a cheaper rate of investment which drastically affected SKN own………………… We got to look out for our interest first so I do support the move by the gov't to help boost the CBI. We got to do what we got to do sometimes."
Another national C. Jones, used social media to make the following comment "I wonder where Dr Douglas' loyalty lies these days? Not in St.Kitts-Nevis clearly. It seems to me that he is seeking to undermine the CBI programme in St.Kitts-Nevis and if thats the case then one has to wonder why?"
Social Commentator and Media Personality Mervin Hanley also commented in support of the newly announced CBI Hurricane Relief Initiative.
Hanley said " I have seen much talk about the CBI program and the reduction of its fees or what is called Hurricane Relief Fund where they pay whatever the amount and the rest into a relief fund to assist those devastated by hurricanes. I understand to some that it might be a sensitive issue and hence I want to be as objective and try not to offend those islands who have a similar program…
Firstly, I would like to remind everyone near and far that St Kitts and Nevis started this program. Others followed and we welcomed the Caribbean islands who followed suit.. They did not say Oh SKN has it so let's not take advantage. They did. They not only took advantage but they offered citizenship LOWER than us. We did not like it but hey, it's business. A matter of fact, some opted out of our program from press releases I have seen, and went to other territories to take part in their CBI. St Kitts and Nevis suffered a blow..Those who made millions from this (providers) they complained that they used to do 30 cases per month at times and now they're doing 2 or 3. Fast forward..
Sadly we've had two hurricanes that have devastated a few islands who have been enjoying the fruits of the CBI. St Kits and Nevis under the leadership of Prime Minister Harris decided okay, these islands may not attract visitors at this time so let us appeal to perhaps them and others as we are still here to do business. Some of us might see that as being sensitive, bad timing and all that stuff but Digicel was down for days and what did FLOW do? Offered FREE SIMS to toot Sam and Baggi. Well, we took a similar approach but not free. Just a reduced fee in ADDITION to monetary donations of ONE MILLION DOLLARS. Four hundred thousand dollars. Two hundred thousand dollars and more.
St Kitts and Nevis has led the way in helping our neighbors and not just now. A long time ago. We will continue to lead in doing this and we will continue to lead with innovative ideas such as the Citizenship By Investment Program."
The six month Hurricane Relief Fund which is to be hosted by the Citizenship Investment Unit will see a proportion of the CBI investment going into the Hurricane Relief Fund to be distributed upon application. Citizenship by Investment applicants will make a non-refundable contribution of USD $150,000.00 which will go into the Hurricane Relief Fund. The fees for agents and services providers will remain as standard.
It is hoped that the fund will grow sufficiently to be in a position to extend support to neighboring countries in the Caribbean who have been affected this season's hurricanes.