Double Salary Again- The Skillful Prime Minister Dr. Timothy Harris saves Christmas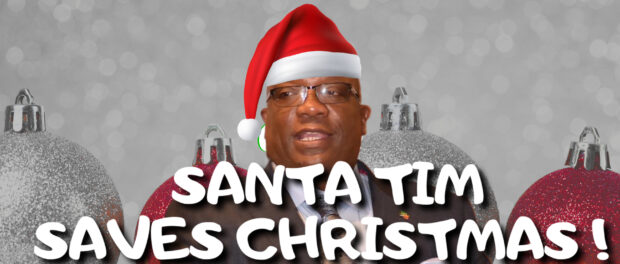 by Mercia Bassue
Some were left with their mouths opened, others screemed and shouted, all in excitement and amazement at the announcement of a 'Double Salary' for civil servants and step workers made by the Prime Minister of St. Kitts and Nevis. Who further encouraged all statutory bodies and boards to do the same during day one of his 2022 Budget Address.
The global financial and economic crisis caused by the COVID-19 pandemic has impacted homes, families, businesses and indeed the entire country and world at large. Many citizens of St.Kitts and Nevis have not been able to create wealth, work, or save as the pandemic has slowed economic activity for almost two years.
Many hearts are at ease today because they have an extra salary to bring cheer to family and friends this Christmas. Persons have been wondering what kind of Christmas and Carnival season they would have as funds are already low and in some cases depleted.
So many citizens are in arrears with bills including mortgages, house rent, loan payments, electricity, child support etc. As a matter of fact many persons are struggling to buy groceries and other essentials. Not because of any fault of their own or the government but due in part to the negative ripple effect caused by the COVID-19 pandemic, including escalating global food and gas prices.
The government would have focused much of the 2021 budget on the procurement of vaccines, health and medical equipment/supplies/personnel with a 'life first' agenda. Another major focus was relief, this came in the form of stimulus and income support, helping to cushion the financial burden on households and businesses.
It was left to the minister of finance, the Honorable Dr. Timothy Harris at the end of the 2021 financial year to make a determination that the cries of the ordinary people be heard and attended to. The decision to pay a double salary in the midst of a crisis was bold, symbolic of compassion and strategic. Clearly, not only civil servants but bus drivers, business owners, shop keepers, entertainers., make up artists etc would all benefit from this magnanimous gesture.
The civil servants and statutory bodies were the ones holding the economy together when business went stagnant and tourism halted. They were the ones carrying the strain for loved ones who lost their jobs and needed financial backing, during this crisis, certainly this payment is justified. I encourage one and all to be responsible with this payment and to be your brother's keeper.
The chatter and debates of the possibility of a double salary is now converted into reality. Increased spending power will ultimately stimulate and boost the economy causing a trickle down effect as the federation moves into post pandemic/ recovery mode. Let us continue to support and pray for the leadership of the federation and have a blessed Christmas and Carnival season.
May God bless our beautiful land of St. Kitts and Nevis.