Diverted JetBlue Flight 881 Lands In Bermuda
[Updated] Emergency services converged on LF Wade International Airport this morning [Aug 25] after a JetBlue flight diverted to the island.
JetBlue flight #881 was on its way to Hewanorra International Airport in Saint Lucia after departing from John F Kennedy International Airport in New York when it diverted to the island.
Details are limited at this time, however we will update as able.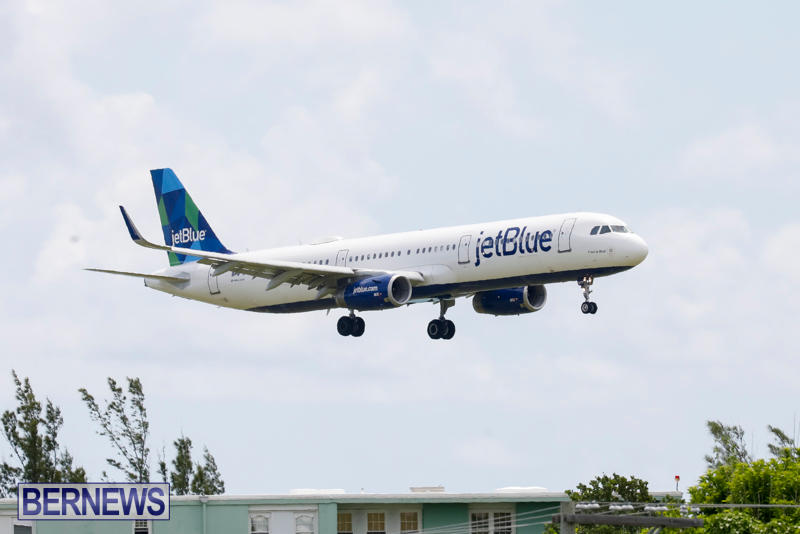 Update 3.50pm: Bermuda Fire and Rescue Service spokesperson, Acting Lieutenant Russann Francis said, "At 11:53am today, Friday, August 22, 2017, our 911 Emergency Dispatch Center received a call from the L. F. Wade International Airport Duty Officer, Mr. Tyrone Smith.
"He stated that a Jet Blue A320 on its way to the island of St. Lucia will make an emergency landing in Bermuda due to smoke coming from the rear of the plane.
"The Jet Blue flight was reported to carry 202 souls with 4 1/2 hours of fuel remaining on board. Bermuda Fire and Rescue Service [BFRS] were standing by on scene with 9 vehicles and 14 personnel as the flight landed safely in Bermuda at 12:14pm.
"BFRS personnel dressed in breathing apparatus carried out a thorough search of the Airbus compartment with thermal imaging equipment before turning the scene over to the airline representatives."
Update 4.50pm: A Bermuda Maritime Operations Centre [BMOC] spokesperson said, "On Friday 25th August, 11:53am, Bermuda Maritime Operations Centre is contacted by Air Traffic Controllers at L.F. Wade International airport, reporting that a Jet Blue aircraft was diverting to Bermuda due to suspected smoke in aircraft.
"Marine Police vessels 'Heron 2′ and 'Heron 3′ were dispatched to end of airport runway while BPS and BFRS also responded to incident.
"The Airbus 321 on route from JFK to St. Lucia with 202 persons on-board, landed safely just after noon [1214 local time]. BFRS investigation into fire is ongoing while Marine Police assets have been subsequently stood-down."
Update 5.45pm: A Skyport spokesperson said, "A JetBlue flight enroute to St. Lucia was diverted to Bermuda this afternoon.
"The aircraft landed at 12:15pm as a result of the pilot reporting a detector light going off, indicating smoke in the cabin. The plane was an AirBus A321 from New York heading to St. Lucia with 202 passengers on board."
"A Skyport Airport Duty Officer said: "Once the aircraft landed, it was inspected by the Bermuda Fire and Rescue Service [BFRS], who did not find evidence of smoke or fire.
"Passengers departed the aircraft and waited in the international lounge while the aircraft underwent an inspection. The mechanical issue was resolved and the passengers reboarded the aircraft at 2:05pm."
"The aircraft, flight B6881, refueled and departed for St. Lucia without further incident", the spokesperson confirmed.