CSS Principal thanks SIDF for assistance with hosting 45th LIDC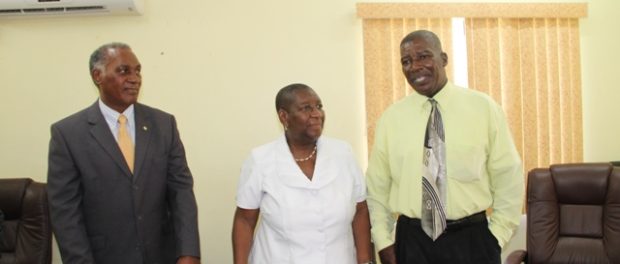 NIA CHARLESTOWN NEVIS (February 15, 2017) —
Edson Elliott, Principal of the Charlestown Secondary School (CSS) and the Nevis Sixth Form College, thanked the St. Kitts and Nevis Sugar Industry Diversification Foundation (SIDF) Board of Counsellors for their contribution of $10,000 to assist with hosting the 45th Leeward Islands Debating Competition (LIDC).
Elliott, was presented with the cheque by Chairman of the Board Dr. Dr. Robertine Chaderton, at a ceremony at the Ministry of Finance conference room in Charlestown on February 14, 2017.
"We have been fighting with a very large estimate of the competition and so we are very grateful that the SIDF has come to our help…
"We are happy that with the help of the SIDF that we will be able to sustain competitions like these. On behalf of the CSS and the Nevis Sixth Form College I want to say thanks," he said.
Elliott said the school had been facing a big estimate to host the participants and was grateful for the financial support.
The Principal, used the opportunity to urge the public to support the contest which runs from February 23 to 26.
He expressed hope that at the end of the contest, Nevis would have contributed to the competition's integrity.
Elliott stated that the contest is an important extra-curricular activity for students.
"We like to have things like these for our youths. We know the challenges these days in dealing with our youths but we think that pleasant competitions like these are good things," he said.
Meantime, Hon. Vance Amory, Premier of Nevis who is also the Minister of Education in the Nevis Island Administration (NIA), said it was good that CSS, one of the better schools in the region, is hosting the LIDC. He thanked the SIFD for its support in the development of the young people of Nevis.