Amory says relationship between Nevis and St. Kitts at its best, thanks to Team Unity
Get our headlines on WHATSAPP: 1) Save +1 (869) 665-9125 to your contact list. 2) Send a WhatsApp message to that number so we can add you 3) Send your news, photos/videos to times.caribbean@gmail.com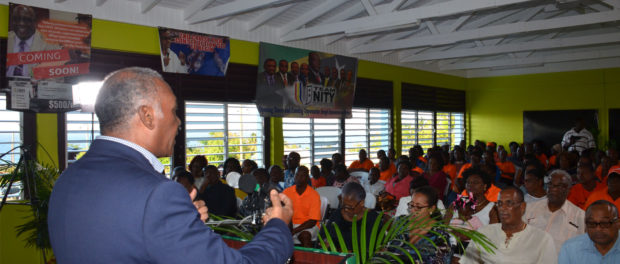 BASSETERRE, ST. KITTS, May 22, 2018 (PLP PR Media Inc.) — Senior Minister in the Team Unity Government, the Hon Vance Amory, has said that relationship between Nevis and St. Kitts has been at its best ever since the advent of Team Unity Government, and directly credits Prime Minister Dr the Hon Timothy Harris for that accomplishment.
"I speak to you because I am a firm believer in what we did to establish the Team Unity Government," said the Hon Amory on Sunday May 20 as he addressed a packed house at the Prime Minister's Open Forum held at the Edgar T. Morris Primary School in Tabernacle
"And I speak to you also because I believe that our Prime Minister, Dr the Hon Timothy Harris, is an astute leader. I believe, and the evidence is there, that he is capable and he has shown it by the way he has managed the economics department of this country."
He chastised those who think that Prime Minister Harris does not have people to work with, and dismantled their line of thought by telling them that all the different sectors in the country are running well because there is support in the unity of purpose among the Prime Minister and his ministers and that anybody is able to see that the country is running good.
"Under this Team Unity Government, the relationship between St. Kitts and Nevis, people of the two islands, has improved tremendously," said the Hon Amory, who is the immediate former Premier of Nevis.
Hon Amory observed that the benefits which the people of Nevis have seen and which they will continue to see under the Team Unity Government, they are more than happy and are prepared to "keep this Team Unity Government in office when the time comes for us to vote again."
He told the hundreds assembled at the Edgar T. Morris Primary, some following the proceedings from a huge screen set outside under a tent, that he had to forego his Pentecost Sunday to come to St. Kitts because of them (the people) based on what they did on the 15th day of February 2015. He said: "We would not be here talking to you if you had not seen it fit to make the change."
The Senior Minister, who is one of the longest serving Federal Parliamentarians, noted how pleased he was to see the very many people who had attended the Prime Minister's Open Forum. He said their presence told him that Team Unity Government has a cross section of support because he could see many young people whom he referred to as the future of the country.
He however warned everyone to be aware of those he termed as 'wolves in sheep's clothing'.
"That is not a political statement," noted Hon Amory. "It is a statement of reality because when we listen to those who are parading themselves as paragons of virtue as if they have served this country well, when in fact what they did was to serve themselves."
He added: "That is the reason why they are so angry because they know that they have taken out what they know they can't get their hands on any more, because Team Unity is running this country well. We have decided, even before we got into government, that we will be a government which will be transparent, which is responsible, and one which improves everybody."
The former Premier of Nevis advised the cheering participants that those doing such mischief knew very well that the Team Unity Government was doing the correct thing, but they want to try and fool people with their sheep's clothing over their wolfish behaviour. He advised: "That is what I want you to guard against."