22nd edition of Constituency #7 Dr the Hon Timothy Harris Domino League opens
Get our headlines on WHATSAPP: 1) Save +1 (869) 665-9125 to your contact list. 2) Send a WhatsApp message to that number so we can add you 3) Send your news, photos/videos to times.caribbean@gmail.com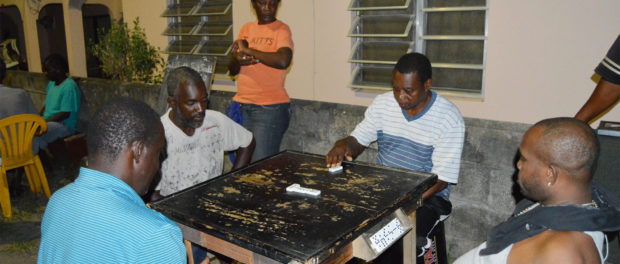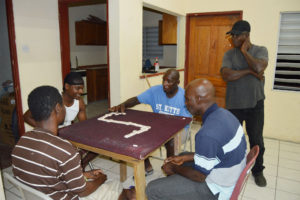 BASSETERRE, ST. KITTS, August 11, 2017 (PLP PR Media Inc.) — The 22nd edition of the annual Constituency Number Seven Dr the Hon Timothy Harris Domino League competition opened on Thursday evening August 10 at seven venues.
With a record number of fourteen teams taking part in this year's league, six of the venues were in Constituency Number Seven while one venue was in Constituency Number Six. Twelve of the teams, including the defending champions Unity are from Constituency Number Seven and two teams are from Constituency Number Six.
The league, as the name suggests is the brainchild, and is sponsored by the area Parliamentary Representative Dr the Hon Timothy Harris, who is also the Prime Minister of the Federation of St. Kitts and Nevis. He is also the Political Leader of the Peoples Labour Party (PLP) one of the three parties in the ruling Team Unity Administration.
"I would like to thank our sponsor Dr the Hon Timothy Harris for his trustworthiness in our community and his constituency, as he has made sure that things in this domino league have been going well for twenty-two years," said League Organiser Mr Calvin Farrell. He has been the organiser from its inception.
According to Mr Calvin Farrell, the league plays an important role in keeping young people busy as they have embraced it. "I am very thankful to see that young people are coming out to play the game that they so love. Community based activities like these can help to keep down incidences of crime in our country, because when young people are positively engaged they have less time on their hands to get involved in anti-social behaviours. I am happy to see young people coming on board and greatly appreciate the Prime Minister's support."
Teams taking part are the defending champion Unity, Mansion Upsetters, Sylver's, Molineux, Guinness, Giants, Small Corner, Christchurch, Unstoppable, Tabernacle, Lodge, and Beers of Constituency Number Seven. Others were Parsons and Saddlers of Constituency Number Six.
The league will be executed in a round-robin format where all teams will have to play each other, after which the top four will go into a playoff to determine the winner and runner-up positions. The second round of matches will be played on Tuesday August 15.
Defending champions Unity who faced Giants at the Lodge Project Community Centre received an early scare when Giants went up 5-0. Captain Edmund 'Fergie' Rawlins of Unity said: "We had to put our foot down as we are the champions and we did not want to lose in the first round."
He had every reason to feel worried as the team they were facing was a new entrant. True to his word, they turned tables on their opponents with such a force that it left Giants flatfooted for the champions to win the first round at 13-7.
Other results were: Mansion Upsetters 13 – Parsons 5 in a match played at Parsons; Saddlers 13 – Sylver's 4 in a match played at Hidden Alley in Lodge Village; and Guinness 13 – Unstoppable 4 in a match played at Bernette Bar in Hidden Alley, Lodge Village.
The rest were: Beers 13 – Small Corner 11 in a match played at Lemon Hill in Lodge Village; Lodge 13 – Christchurch 3 in a match played at Mansion; and Molineux 13 -Tabernacle 11 in a match played at Tabernacle Village.
Mr Farrell revealed that the league will have some added attractions this year, thanks to its sponsor Dr the Hon Timothy Harris. He said: "We intend to increase the prizes for the best player of the league in the round robin stage, and for the best player in the playoffs to the finals."
He further observed that it is their intention to give everyone a chance to get something out of this year's league and that being the case, "we will have the best of the rest at the end of the season. So everybody gets something, as long as they participate in the competition."
In conclusion Mr Farrell said: "The games on Thursday night were well attended and we are looking forward to the second round on Tuesday August 15. I have been at the helm of this league's organisation because I love it. When you love something you have the passion to do whatever it takes to make the competition better and bigger every year."