New Blood Bank Opening Hours, Campaign Launch Encourages Regular Blood Donation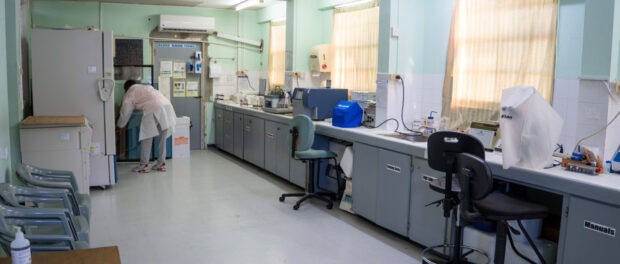 Basseterre, Saint Kitts and Nevis, February 6, 2023 [Ministry of Health]: The Ministry of Health is urging eligible individuals to give blood regularly to help save lives and improve the health of their community.
According to recent statistics only a small fraction of the eligible population regularly donates blood. By giving blood, individuals can help ensure that hospitals have the supplies they need to treat patients in times of need.
"Blood donation is a simple, yet powerful act of kindness that can have a profound impact on others," said Dr. Jenson Morton, Director of Health Institutions. "Every blood donation can help save up to three lives, and by giving regularly, donors can help maintain a stable blood supply for their community."
To foster greater community involvement the Ministry has increased the opening hours of the blood bank at the J.N.F. General Hospital, 8am to 4pm Monday to Friday. The public is also advised that after hours donations can also be facilitated should the need arise.
In addition to the new operating hours the Ministry of Health is also rolling out a nation-wide large-scale blood donation campaign. This campaign will engage corporate and community partners and sensitize them on the importance of giving blood. The initiative will also setup a donation schedule for participating groups, and as a result aid in providing a more consistent supply for blood related products to the community. Different groups/organizations/ businesses/ministries would be targeted for blood donations over a two week period for each group. The groups would then be placed in a national drive annual roster, for the same group to be targeted annually at around the same time every year, to ensure the continuation of the blood drives with minimal issues.
Several groups have been identified and have agreed to join the campaign. Many of them have already expressed their eagerness for their opportunity to donate and potentially aid in saving a life.
The Ministers of Government will be participating in the blood drive this Friday 10th February 2023.
The Ministry continues to encourage eligible individuals to schedule an appointment to donate blood today. The donation process is simple and safe, taking only about an hour from start to finish.
"By giving blood, individuals have the opportunity to make a real difference in the lives of others," said the Honourable Dr. Terrence Drew, Prime Minister of Saint Kitts and Nevis and Minister of Health. "We encourage everyone to consider becoming a regular blood donor and help us ensure a stable blood supply for our community."
Blood donors should be at least 17 years old, and be in general good health. Some eligibility restrictions apply, so individuals are encouraged to contact the Ministry of Health for more information.